<!– Place this tag in your head or just before your close body tag –> <!– Place this tag where you want the +1 button to render –>
Everyone who knows me knows that I am a big fan of combat sports.  Whether it be mixed martial arts (MMA), boxing, or wrestling, I love to watch two people test themselves against one another.  Unlike most combat sports fans, I started with MMA.  My father used to order UFC on pay-per-view when I was growing up and we would watch them together.  One evening I watched a fight between Arturo Gatti and Mickey Ward that immediately made me a boxing fan.
As exciting as it has been to watch MMA grow as a sport it has been equally as disappointing to watch boxing steadily decline.  About a month ago the face of boxing, for better or worse, Oscar De LaHoya called it quits.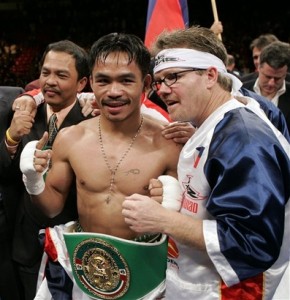 Many in boxing feared that we could be looking at some incredibly dark days in boxing.  That all changed last night…
Last night Manny Pacquiao and Ricky Hatton fought on pay-per-view.  I refuse to pay $50 to watch a fight when it will be aired the very next week.  Luckily for me and other fight fans, this fight could easily be uploaded on YouTube because it didn't even last 20 minutes.  Last night the Fillipino fighter, Pacquiao, knocked down the British fighter, Hatton, a total of three times.  He knocked him down two times in the first round and knocked him out at the end of the second.  I've always liked Ricky Hatton because he has always seemed like a man's man.  Despite that, last night's knockout was good for the sport of boxing.  Once again, boxing has a fighter that fans are eager to watch.  Pacquiao weighs about 130 pounds but punches like a heavyweight.  He can beat fighters with his pure speed like he did De LaHoya or he can use his power to end the night quickly as he did with Hatton.
Its this power and speed that will make a match between Pacquiao and Floyd Mayweather Jr. so exciting.  Mayweather retired from boxing as the "pound for pound king".  Now that title belongs to Pacquiao.  Mayweather emerged from retirement and may still be considered the top fighter in the world.  If Mayweather can get past an incredibly difficult Juan Manuel Marquez then it sets up a superfight that I might actually think about paying for.  For boxing's sake, I hope Mayweather gets past Marquez and we can see the superfight that so many fans crave!